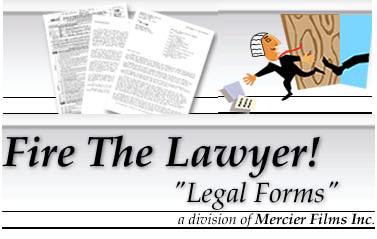 Save money and time using our forms at home,
and keep your business private.
Lease Agreement, Last Will, 
Living Will, Promissory Note, 
Bill of Sale, Buy-Sell Agreement, 
Revocation of Power of Attorney 
You will get your forms within minutes
+ you will also support our next educational TV series.
(Safe Checkout with PayPal. ​​​​​​​)
Thank you! 
© 2021
Do not take the FREE ones on the internet. 
Do not give them your info.

85 essential legal forms offered to you in this exclusive package.
The very same text files most lawyers copy and paste in your paperwork!
Save time and money.
Use them again and again.
You will get the WORD and PDF versions / documents.
​​​​​​​
Every form you see on the list below will be in this package.
Roll down to find any particular form 
Safe Checkout with PayPal. ​​​​​​​
You will get your forms within minutes.

Each form easily editable with easy fill in sections.
Immediate delivery by email.
You will get ALL the following 85 (+2 new ones!)legal forms for $19.99 
editable for your personal use. 
or get them one at a time for $4.99
ROLL DOWN TO BUY SEPARATELY ANY ON THE LIST!
01. Accountant Agreement 
​​​​​​​
03. Annual Shareholders Minutes
05. 
Articles Of Incorporation Form
06. Assignment of Interest In Estate
07. Assignment As A Lessor
08. Assignment Lease Lessor
09. Assignment Of Mortgage
10. Assignment Of Savings
11. Assignment Stock Certificate
12. Auto Rental Agreement
13. 
Balloon Mortgage Note
15. Board Of Directors Minutes
16. Board Of Director Waiver
17. Boat Rental Agreement
18. Business Consultant Agreement
19. Buy and Sell (just about anything) Agreement
21. Card Holder Billing Error Claim
22. Card Holder Lost Card Declaration
23. Card Holder Stolen Card Declaration
24. 
Collection Demand Letter Form
26. Construction Contract
27. Contingent Fee Retainer
29. Contract Purchase Sale
30. Corporate Name Application
31. Corporate Shares (issues of) In Exchange Of Realty
32. 
Declaration of Life Insurance Trust
33. 
Declaration Of Revocable Trust
35. Employee Automobile Expenses Form
36. Furnished House Agreement Form
40. Irrevocable Trust Form
46. 
Life Insurance Co-Lateral
49. 
Management Single Family House
50. Minute Annual Shareholders Form
51. 
Modification Agreement
53. Mortgage Assumption Agreement
54. Motorcycle Custom Sale
55. 
Mutual Recession Contract
56. 
Non Refundable Deposit Receipt
57. Option For Purchase of Real Estate
59. 
Parking Space Lease Form
60. 
Permission To Sublet Form
61. 
Power Of Attorney Medical
62. 
Power Of Attorney Durable
63. 
Power Of Attorney Form
65. 
Property Management Agreement Form
68. 
Real Estate Agent Contract
69. 
Real Estate Agent Contractor Form
70. 
Real Estate Purchase Contract
71. 
Real Estate Purchase And Sale Agreement
72. 
Real Estate Broker (employment) For Lease Of Property
73. 
Rental Application Form
75. 
Rent Repurchase Agreement By Lessor
76. 
Reserved Name Transfer
77. 
Retainer Letter Of Agreement
79. 
Revocation Of Power Of Attorney
80. 
Share Holders Agreement
 81. 
Special Power Of Attorney
82. 
Special Warranty Deed
83. Stock Purchase Agreement
84. 
Stock Redemption Form
85. ​​​​​​​
Storage Space Lease
​​​​​​​
86. 
Subscription Agreement 
​​​​​​​
87. 
Vehicle Sale Form
​​​​​​​​​​​​​​
Safe Checkout with PayPal. 
You will get your forms within minutes
© 2021
FireTheLawyer.com is a division of Mercier Films Inc.
All proceeds go to the production of our next educational TV series. THANK YOU!